What is Toyota Star Safety System?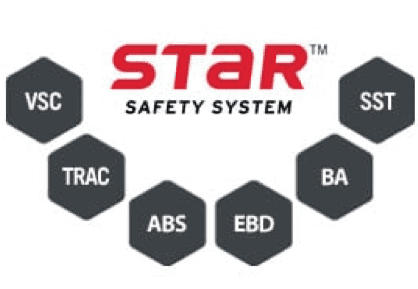 Toyotas are famed for their reliability and safety. Owning a Toyota means that not only will it last for many years, but it will also keep you and your family safe for the entire time. These days, many companies boast about their advanced safety technology. While that is great, safety starts from the ground up with each and every new Toyota. The Star Safety System comes standard with every new Toyota. This combination of five systems ensures that you and your passengers get to your destination safely. 
Are you looking to purchase a new Toyota with all the safety gear? Click here to view our new inventory at Landers Toyota in Little Rock, Arkansas. 
Toyota's Star Safety System includes:
Vehicle Stability Control

Traction Control

Anti-Lock Brakes

Electronic Brake-Force Distribution

Brake Assist
So what do each of these systems do and why do you want them equipped on your new vehicle?
Vehicle Stability Control keeps your vehicle going through the turn just as you planned. If you are going too fast through a corner or there is inclement weather, the vehicle control system works in the background to make sure the steering angle and the direction of travel are working together. If those get out of sync, the system can reduce engine power and individually apply the brakes at each wheel as necessary.
Traction Control works very similarly to the vehicle stability control system but traction control shines when the vehicle is headed in a straight line. Traction control monitors wheelspin and will slow the engine and apply brakes to that wheel to stop spinning, sending torque to the other wheels to continue on your way without sliding. 
Anti-Lock Brakes are super important for advanced emergency maneuvers. Without anti-lock brakes, you would not be able to brake hard and steer at the same time. This is due to the brakes locking up because there is too much pressure. Anti-lock brakes sense when you hit the brakes hard and effectively "pump" the brakes much faster than any human could possibly pump them. This pumping keeps the wheels from locking up and slows the vehicle much faster.
Electronic Brake-Force Distribution works by sensing the weight distribution in the vehicle and applying the brakes in a smart way in order to avoid forward tilt. If you are loaded down with heavy cargo in the rear and you slam on your brakes, this system can sense that and make sure there is not too much forward tilt that makes the rear shift up and reduce the effectiveness of the rear braking system. 
Brake Assist is designed to work by applying extra brake pressure under a panic stop to help you avoid a collision. If you don't push the pedal down all the way or the driver's seat is pushed too far back, brake assist will help you apply more pressure to stay safe. 
Not only does your new Toyota come with the Star Safety System, but you will also get a version of Toyota Safety Sense. Toyota Safety Sense includes features like pre-collision braking, radar cruise control, automatic high beams, and more! Depending on which Toyota model you choose, even more safety technology is available such as blind-spot monitoring, surround-view 360-degree bird's eye view cameras, rear cross-traffic alert, and more!
Are you ready to drive one of the most reliable and safest cars out on the road today? Buying a new Toyota from Landers Toyota in Little Rock, AR is one of the best decisions you can make! Contact us today for any additional questions you may have regarding the safety of any of our new vehicles!