New Years' Resolutions for your Car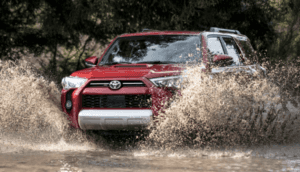 Happy New Year! January is, of course, the first month of a whole new year, and for a lot of folks, that means making those New Year's Resolutions we all hope will lead to a better, healthier, leaner, better YOU in 2023. While you're at it, though, you might want to take a moment to think about making a few New Year's Resolutions for your VEHICLE! Committing to keeping your car healthy, happy, running great and looking great in 2023 is, after all, a great way to help make sure you stay happier and more productive in the coming year too.


Seen below, check out four of our suggestions for New Years' Resolutions for your car. And if one of your resolutions is to find affordable transportation that will make you proud every time you hit the key, come see us today at Landers Toyota of Little Rock, or check out our celebration-worthy selection of great new Toyotas and used vehicles at our website right now. All the best in 2023 from your friends in the car business at Landers Toyota of Little Rock.

SEE FURTHER, AND MORE CLEARLY: Do you ever wear glasses? Well, how do you think you'd see through them if you never took a second to wipe off your lenses? That's what's happening when you neglect your vehicle's windshield wipers and windshield-washer fluid. Keeping your wipers in good condition and your windshield washer reservoir full not only helps keep your vehicle looking good, it also can help keep you safe by improving visibility and lessening streaking during rain, snow or foggy driving. So make it a habit to top off your windshield washer fluid every two months, and to inspect your windshield wiper blades for cracks, gouges or splitting. If they're worn, bring your vehicle in to Landers Toyota of Little Rock or your favorite mechanic to have them replaced.

WAX ON, WAX OFF: In 2023, it's also a good idea to commit to keeping your vehicle's exterior clean and waxed. The world is always throwing things at your vehicle's paint and metal finishes, including insects, bird droppings, dust, dirt, sap, mold, and even mild acids that can come from contaminants. If you allow that stuff to sit on your paint, it can sometimes discolor or damage the finishes and alloys over time. Given that, make it a habit to give your car a trip through the car wash at least twice a month, and — if you don't have the time for a good hand-waxing of your car — be sure to get the spray wax. A good coat of wax forms a microscopic barrier between your paint and the outside world, helping your car look great longer.

CHECK YOURSELF, BEFORE YOU WRECK YOURSELF: Keeping track of the health and safety of your car is crucial to the health and safety of your and your family. Don't believe it? Just consider your tires. A blowout caused by unseen tire damage or overinflation or underinflation can literally cost you your life. So, once a month, make it a habit to thoroughly check all four of your tires and your spare. Visually inspect the outside wall of the tire for nicks, cuts, and splits. If you feel comfortable doing so, run your hand around the inside wall of each tire, feeling for nicks and cuts. Check the tread depth, either with a depth gauge you can buy from the auto-parts store, or with the ol' "Penny Trick" of putting a U.S. Penny into the tread with Abe Lincoln's head pointing down. If the tread covers Abe's forehead, you're likely good. Finally, buy a digital tire gauge and make it a habit of checking the pressure in all your tires. Top it off it needed. Finally, be sure to check that your spare is solid and holding air, if your vehicle is equipped with a spare.

EMBRACE C-C-C-CHANGES: Sometimes when the new year rolls around, what you really need is a change, and there's no better way to get a new outlook on life, we've found, than by changing what you're driving. Constantly worried about that old car of yours breaking down or acting up? With brand new 2023 Toyota vehicles like the 2023 Crown starting at $39,950 and packing legendary Toyota quality and a great warranty, there's no reason to keep worrying. Wish you had a truck to help you get out there and find adventure in 2023? The iconic 2023 Toyota Tacoma starts at just $27,250, and for a little more, you can get the go-anywhere Toyota Tacoma 4×4 and REALLY get lost and find yourself in the great outdoors. Can't swing that? Landers Toyota of Little Rock has a stellar selection of pre-owned vehicles for any price range.

So what are you waiting for? Stop in today at Landers Toyota of Little Rock for a test drive and get started changing your life in 2023 in the most fun way possible: behind the wheel of a quality-built new Toyota! We look forward to helping you get a fresh automotive start in 2023, at Landers Toyota!