Buy a 2021 Toyota Sienna in Little Rock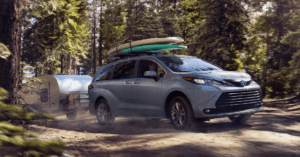 You might think that owning a minivan will mean abandoning any hope of driving something that fits your style until the kids are out of booster seats and done with karate lessons. And you might be right! Unless, that is, you drive the all-new 2021 Toyota Sienna. The minivan for those who think they'd hate driving a minivan, the 2021 Sienna features all the convenience, safety, technology and comfort you want, and none of the bland, boxy, 'burb-approved styling and sluggish performance that gave small vans a bad name in the first place. Ready to buy a 2021 Toyota Sienna in Little Rock, North Little Rock, Benton or Bryant? Then come see us at Your Central Arkansas Toyota Superstore: Landers Toyota of Little Rock! Or you can check out our full selection of 2021 Toyota Sienna models at our website right now. 
SHOP OUR SELECTION OF 2021 TOYOTA SIENNA MODELS
SPORTY AND ATHLETIC STYLING: "Sporty and athletic"? For real? We ARE talking about a minivan here, right? We don't blame you for thinking that, but one look at the sleek, aggressive styling of the 2021 Toyota Sienna is enough to show that this isn't anything close to your mom's old minivan. Crisp character lines and perfect proportions abound on the 2021 Sienna, which includes features like wrap-around LED tail-lights, a honeycomb grille of sculptural mesh, and available 20 inch wheels to help the 2021 Toyota Sienna look like a power player even when you're doing "Mom and Dad Duty." Inside, the 2021 Sienna is just as smart and stylish, with feature like super-long-slide rear seats and available captain's chairs with padded, pop-out ottomans for long-haul passenger comfort. Tailgating before the game or going Camping? The 2021 Sienna features an on-board 1500W power inverter that makes running small appliances like televisions, slow cookers, or air compressors as easy as plugging into 120 volt AC outlet, just like at home.
THE PERFORMANCE TO MOVE YOU: Minivans of the past weren't exactly known for their searing performance, but that's another of the things the 2021 Toyota Sienna is here to change your mind about. Showcasing Toyota's role as a vehicle manufacturer that always keeps the future in mind, every 2021 Toyota Sienna is a hybrid, powered by a 2.5-liter four-cylinder engine which feeds an on-board battery pack that drives two powerful DC electric motors on two-wheel drive models, or three electric motors on all-wheel drive versions. Combined, the motors produce the equivalent of 243 horsepower and gobs or low-end torque, while delivering world-class fuel efficiency of 36 miles per gallon and acceleration that makes every trip and adventure. Meanwhile, keeping you and yours safe whether you're heading 'cross country or across town is Toyota's Safety Sense 2.0, a suite of advanced safety features that come standard on the 2021 Toyota Sienna, even though they cost thousands more as options on competing models.
SAFETY THAT'S PEACE OF MIND: What separates the 2021 Toyota Sienna from the rest of the suburbia herd is its abundant safety features, which give that extra sense of safety and peace of mind that you can't put a price tag on. The 2021 Sienna comes standard with Blind Spot Monitoring with Rear Cross-Traffic Alert to help combat your blind spots. The Rear Seat Reminder helps you keep track of your precious cargo in the back. The advanced air-bag system consists of ten standard airbags to protect both driver and passengers in a serious collision. 
Does responsibility have you singing those "I Need a Minivan Blues"? Then check out the minivan for those who never thought they'd love driving a minivan: the all-new 2021 Toyota Sienna. Stop in today at Landers Toyota of Little Rock for a test drive, or check out our full selection of 2021 Toyota Sienna models at our website right now.