Buy a 2021 Toyota Prius in Little Rock, Arkansas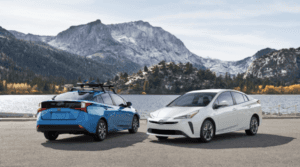 Look, the planet isn't going to save itself. If you're ready to do your part for a better, cleaner, greener future with the purchase of a hybrid vehicle, you can't go wrong with the original: the modern, clean, reliable 2021 Toyota Prius. Packing iconic style with Toyota's groundbreaking hybrid technology, the 2021 Toyota Prius was the first mass-produced gas-electric hybrid in America. All these years later, other manufacturers are still playing catch-up. Are you ready to buy a 2021 Toyota Prius in Little Rock, North Little Rock, Benton or Bryant? Then come see us at the dealership that has made more Prius owners in Arkansas than anyone else: Landers Toyota of Little Rock! Stop in today for a strangely-silent test-drive, or check out our full selection of 2021 Prius models at our website right now.

CLICK HERE TO SHOP OUR SELECTION OF 2021 TOYOTA PRIUS MODELS

LEAVE 'RANGE ANXIETY' BEHIND: Sure, there's plenty of "greener" cars out there to be had if you want to spend a lot of money, but Toyota Hybrids are the Hybrids For All, and that includes the 2021 Toyota Prius. Starting at just $24,525, with fuel economy of an incredible 54 miles per gallon on the highway, the 2021 Toyota Prius is cheaper to buy, cheaper to own, and cheaper to maintain than just about any lower-emissions car on the road, with seven unique trim levels to help you make your Prius unique to your style and how you want to drive. While others are spending hours waiting on their electric vehicles to charge, you'll be out enjoying your next adventure thanks to the 2021 Toyota Prius gas/electric powertrain, that is always charging the on-board battery pack, so you spend less time thinking about your Prius and its needs and more time driving.

SAFETY IS ALWAYS A PRIORITY: With a smaller car like the 2021 Toyota Prius, which has to share the road with bloated, fuel-hungry trucks and SUVs, safety has to be front-of-mind with every engineering and design decision from the ground up. Toyota has long held the commitment to keep you and yours safer on the road as a brand-wide commitment. That's why the 2021 Toyota Prius has one of the most advanced safety packages of any vehicle of similar size, much less in its class: Toyota Safety Sense 2.0. Included in this standard package of technologies are features costing hundreds more on comparable models, including pre-collision system with pedestrian detection, full-speed dynamic radar cruise control, lane departure alert with steering assist, lane-tracing assist and more. Want even more safety? For all-weather travel and corner-carving fun, the 2021 Toyota Prius is now available with the four-wheel traction of Toyota's AWD-e electronic all-wheel drive.  

We've all got to do our part to help create a greener future for America and our planet, and purchasing a new 2021 Toyota Prius from Landers Toyota is a great first step you can take toward that brighter tomorrow. Stop in today for a test drive, or check out our full selection of 2021 Toyota Prius models at our website right now.